Asst.Prof.Dr.Awae Masae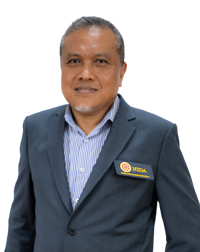 Asst.Prof.Dr.Awae Masae
Administrative Position: Dean of School of Social and Environmental Development

He is an expert in Rural and Agrarian Development, Theory and Development Concept, People's Participation in Rural Development and Natural Resources Management, Quantitative Research in Social Development and Natural Resource Management, and Well-being Concept and Sustainable Rural Livelihood. He has also been involved in research collaboration with international organizations such as Wetlands International, International Centre for Living Aquatic Resources Management etc. His expertise has been widely recognized at both national and international levels. Before joining the School Social and Environmental Development, he used to be a Director of Master Program in Agricultural Development, and Head of Agricultural Development at the Faculty of Natural Resources, of The Prince of Songkla University. At same time, he was also a research associate in social sciences at the Coastal Research Institute at the same university. His research work covers a wide range of subjects. Interesting topics include: "A Research for Policy Determination of the Program content to be Broadcasted in the 3 Border Provinces of Southern Thailand"; "Wellbeing Research in Developing Countries"; and "Faith Community: an Approach to Social Development based on Religion and Local Culture in the Southernmost Border Provinces". He has published several academic papers and research papers such as "Community Welfare Provision through Savings Groups: An Alternative Approach to Social Inequality Reduction in Rural Thailand" and "Wellbeing, Development and Social Change in Thailand" etc. For the academic service to the public, he has been invited as an academic consultant in the operation of "Strategic Planning Project of the Ministry of Social Development and Human Security in 2012-2016" and Head consultant in "Monitoring and Evaluation of Strategic Plan of the Office of the National Broadcasting and Telecommunication Commission A.D. 2012-2016(year 1 & 2)". Additionally, he was also appointed as an advisory member of The Commission on the Southernmost Border Provinces Affairs for Dr. Poldech Pinprateep, Deputy Minister of Social Development and Human Security.
Education

Doctoral Degree: Ph.D. in Development Studies from University of Bath, Bath, UK.

Master Degree: M.Agr.Sc. in Rural Development, Administration & Management from University of Queensland, Brisbane, Australia.

Bachelor's Degree: B.Sc. in Agricultural Development (2nd Class Honor) from Prince of Songkla University, Hatyai, Thailand.


Skill

» Rural and Agrarian Development

» Development Theory and Concept

» People's Participation in Rural Development and Natural Resource Management

» Quantitative Research in Social and Environmental Development

» Well-being Concept and Sustainable Rural Livelihood

Telephone: 0-2727-3112

Fax: 0-2375-0941, 0-2374-4280

Email: This email address is being protected from spambots. You need JavaScript enabled to view it.