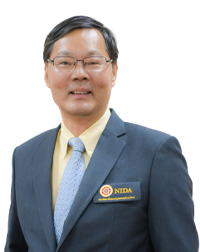 Asst.Prof.Dr.Li Renliang
Administrative Position: Deputy Dean for Academic Affairs
He is an expert in Chinese Study,ASEAN Community Study, International Relation, and Public Policy. With the expertisehe therefore has been appointedas a Thai-Chinese Dictionary Creating Committee of the Royal Institute. He has many national academic researches such as "Four-decade Cooperation in Education Inheritances Millennium Brotherhood relationship", "The Development of Chinese Society with Innovation Management in the Cause of Reforming Deeply and Widely: Forecasts and Analysis of Chinese Society in 2013-2014". "Dancing with the Dragon: The Trans-Asia Railway and its Impact on Thailand", "China's Policy on Development of Modern Agriculture, Famers and Countryside", and "Political System and Current Situation of Thailand". Moreover, he has been invited as a lecturer for many organizations such as the Department of International Trade Promotion (DITP) and "The Office of Small and Medium Enterprises Promotion (OSMEP) with the topics on Society, Economy, International Relation, and Public Policy. He is also a trainer for "Thai-Chinese Interpretation Etiquette and Technique" and "Chinese for Development Course".
Education
Doctoral Degree: Ph.D. in Social Development and Environmental Management from National Institute of Development Administration (NIDA), Thailand
Master's Degree: M.A. in Thai Language & Culture from Peking University, China
Bachelor's Degree: B.A. in in Thai Language & Culture from Peking University, China
Skill
» Chinese Study
» ASEAN Community Study
» International Relation
» Public Policy
Telephone: 0 2727 3577
Fax: 0 2377 6764
E-mail: This email address is being protected from spambots. You need JavaScript enabled to view it., This email address is being protected from spambots. You need JavaScript enabled to view it.