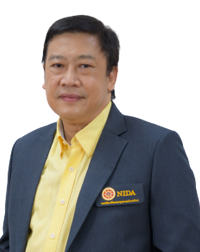 Asst.Prof.Dr.Suvicha Pouaree
Administrative Position: Program Director of Master Degree in Social Development (Yala Special Program) and
Program Director of Master Degree in Politics And Development Strategy (Bangkok Special Program)
After receiving Master of Arts in Politics from the University of Wollongong in Australia, he began his career as a government Officer for The Office of Narcotic Control Board. Then, in 1994 he joined the Perspective Section of the Bangkok Post as a reporter. During his nearly eight years with the Post, he reported, analyzed and commented on several issues in Thai politics, economics and administration, international affairs, and narcotic problems. His experience as journalist and expertise in political analysis made him qualified for several posts in different organizations like the Graduate School of Dhurakijpundit University, the Malaysia Project of Friedrich Naumann Foundation and the Student Loan Fund. Before joining the National Institute of Development Administration (NIDA) in 2008, he was a media specialist at the Open Source Center, located in the US Embassy in Bangkok, Thailand. He is now an Assistant Professor in Political Science for the School of Social and Environmental Development at NIDA. He is an expert in ASEAN Studies, Social Development Administration, Politics and Development Strategy, Politics of Social Policy-Making, Strategic Planning and Management, and Local Politics and Development Strategy. In addition, since 2012 he has been the Director of the NIDA POLL Center – the only poll in Thailand that made the right poll result in the Bangkok Governor Election in 2013.
Education
Doctoral Degree: Ph.D. in Development Administration from National Institute of Development Administration (NIDA), Thailand
Master's Degree: M.A. in Politics from University of Wollongong, Australia
Bachelor's Degree: B.A. in Political Science from Ramkhamhaeng University, Thailand
Skill
» ASEAN Studies
» Social Development Administration
» Politics and Development Strategy
» Politicsof Social Policy-Making
» Strategic Planning and Management
» Local Politics and Development Strategy
Telephone: 0 2727 3099
Fax: -
Email: This email address is being protected from spambots. You need JavaScript enabled to view it., This email address is being protected from spambots. You need JavaScript enabled to view it.