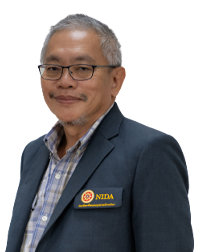 Prof.Dr.Somsak Samukkethum
Administrative Position: Program Director of Master Degree in Social Development (Bangkok Special Program)
He is an expert in Conflict Management of Public Participation, Development Ethics, Leadership and Change Management, and Third-Party Public Management with Social Development. His national level researches and interesting academic papers are "Modern Public Association Management of the East Community's Forest" and "Community, Individuality and Development in the Globalization Era". He also offered the academic services to the public by invited as a lecturer of the Workshop Training by the topic on "ASEAN Knowledge of the Government Official in the Three Western Border Provinces (Kanchanaburi, Ratchaburi, Phetchaburi)" at Phetchaburi Province. Moreover, he has exchanged his academic knowledge in the international conference on "Australian Political Studies Association Annual Conference 2015" at the University of Canberra, Australia.
Education
Doctoral Degree: Ph.D. in Politics from James Cook University, Australia
Master's Degree: M.A. in Sociology from Thammasart University, Thailand
Bachelor's Degree: B.S. in Sociology and Anthropology from Chiangmai University, Thailand
Skill
» Conflict Management of Public Participation
» Development Ethics
» Leadership and Change Management
» Third-Party Public Management with Social Development
Telephone: 0 2727 3122
Fax: 0 2377 6764, 0 2375 0941
Email: This email address is being protected from spambots. You need JavaScript enabled to view it., This email address is being protected from spambots. You need JavaScript enabled to view it.