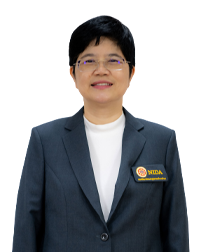 Prof.Dr.Duchduen Bhanthumnavin
Administrative Position: Program Director of Doctoral Degree in Social Development
She is an expert in Psycho-Behavioral Science in Moral and Ethic, Social Support, Leadership and Organization Development, Psychological Sufficiency based on the Philosophy of Sufficient Economy, Training to Strengthen Psychological Characteristics and Moral, and Data Analysis by LISREL and Mplus. Moreover, her papers were published in the leading journals of Thailand and international journals. For her academic services to the public, she has been invited as a consultant of the research projects from many organizations such as Chulalongkorn University, Srinakharinwirot University, Catholic Bishops' Conference of Thailand (CBCT), and the National Research Council of Thailand (NRCT). She is also a representative of Thailand to participate in the conference and presenting her research in Social Acceptance related with Nuclear Power Plant in the International Conference held by International Atomic Energy Agency (IAEA). As her evident researches in academic society, she has been rewarded the prizes of excellent researches from the National Research Council of Thailand (NRCT) and Academy of Human Resource Development (Asia Chapter).
Education
» Doctoral Degree: Ph.D. in Human Resources Development/Psychology from University of Minnesota, USA
» Master's Degree: M.A. in Human Resources Development from University of Minnesota, USA
» Bachelor's Degree: B.S. in Psychology (1st Class Honors) from Srinakharinwirot University, Thailand
Skill
» Psycho-Behavioral Science
» Social Support
» Leadership and Organization Development
» Psychological Sufficiency
» Training to Strengthen Psychological Characteristics and Moral
» Data Analysis by LISREL and Mplus
Telephone: 0 2727 3109
Fax: 0 2377 6764, 0 2375 0941
E-mail: This email address is being protected from spambots. You need JavaScript enabled to view it.